Europe Day
is A DAY
celebrating "peace and unity in Europe".
The Erasmus+ conference in Florence, on Europe Day is an institutional moment of celebration of the 35th anniversary of Erasmus, with the participation of authorities, representatives of the Ministries responsible for the Program and of the Erasmus+ National Agency Indire and the presentation of Erasmus stories and experiences from the world of university, school and adult education.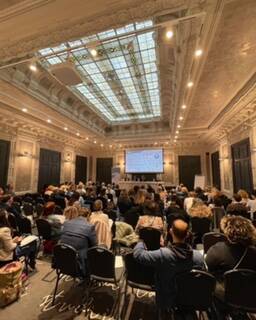 The experience of education experts, practitioners and learners on the ground needs to be an integral component of GreenComp.
Education is a fundamental pillar for the prevention and adaptation to the consequences of the climate crisis:
An education that transcends socio-economic, geographic and generational borders.
An education for all that encompassess all sectors of life, truly transversal, cross-sectoral, equitable and life-long.
An education that enables citizens of all ages to act on climate change and for sustainable development.
A holistic, sustainable and just transition is only possible if we cooperate across sectors, making lifelong learning for sustainable development a reality for all.
In alignment with the European Green Deal, we believe that education is a central component to achieving the EU's climate targets, in the ambition to achieve climate neutrality by 2050.
On an international level, the European Union has targeted delivering the UN's Sustainable Development Goals and combating Climate Change, as well as promoting European education systems that are capable of supporting these aims. We support the implementation of the EU Education Ministers' Paris Declaration on promoting citizenship and the common values of freedom, tolerance and non-discrimination through education (2015).
Responsible citizenship and civic education are fundamental aspects to be taken into account in order to build resilient and sustainable societies. In this regard, equality and social inclusion will remain a key enabler for a sustainable future. Therefore, the European Pillar of Social Rights, the European Skills Agenda for Sustainable Competitiveness, Social Fairness and Resilience (July 2020) and the European Pact for Skills (November 2020) need also to inform the concept of green skills and any future decisions taken in this respect.
As reflected by the New Industrial Strategy for Europe, moving towards a low carbon economy will create more than 1 million jobs by 2030, and, what is more, industrial transitions will require reskilling and upskilling more than 120 million Europeans in the next five years.
These changes are already pushing the acquisition of a whole new set of skills, from technical to soft ones, that allow full participation in the economic activity and the labour market but, beyond them, a green culture (way of life) needs to be developed also in the workplace by introducing small but significant changes in the way people interact with each other and with technology. The acquisition of green skills in the workplace will increase resilience and adaptability of workers, managers and stakeholders, while contributing to green growth, planetary health and and societal resilience.
Green City Accord: How to join?
Un'iniziativa della Commissione europea per rendere le città più verdi, più pulite e più sane.
This new initiative focuses on promoting city engagement and aims to improve the quality of life for all Europeans and accelerate the implementation of EU environmental laws. By signing the agreement, cities commit to addressing five areas of environmental management: air, water, nature and biodiversity, circular economy and waste, and noise.
From CSA, we encourage all cities to join, as this is undoubtedly a very worthwhile initiative that a large number of cities have already joined. Here is the link to the project;
https://ec.europa.eu/environment/green-city-accord_es
RESourCE: third exchange of good practices in Munich, Germany
On the 21st and 25th of March, CSA participated in the third Sustainability Best Practices Exchange meeting of the RESourCE project, held in Munich, Germany.

After the meetings in Bilbao (Spain) and Treviso (Italy), the delegations of the partner organizations of the RESourCE project gathered for a new week of meeting and exchange of good practices in the field of sustainability, in this case in Germany, in the magnificent city of Munich.
During this week, the delegation of the CSA, along with delegations of various organizations from Spain, Hungary, Israel and Germany itself, were able to meet and visit the initiatives that take place in the city, always related to Sustainability, Circular Economy or Environmental Education.
The meeting also served to carry out several workshops on the mentioned topics, and also to present the work and activities that the project partners are carrying out in their organizations.
These meetings are enriching in many ways, because in addition to working on complex issues, they foster the spirit of cultural exchange that the ERASMUS program promotes so much.
RESourCE: partners for the first Climate Education Day
This Thursday 25 November will be the first Climate Education Day, where a series of conferences and virtual events will be held to share ideas and experiences among the education community on how to tackle the climate crisis and make Europe environmentally sustainable.

The objective of this initiative is none other than the one we are also promoting from the project RESourCE: Raising Expertise to Sustain our Common Environment, aimed at promoting knowledge of Sustainable Development among European youth. That is why we encourage everyone to participate in this conference, as it is a very good opportunity to share ideas and opinions in the area of sustainability and the environment.
The event, promoted by the European Commission through the European Youth Portal, aims to be a meeting point for teachers, students and members of the educational community to discuss various relevant topics related to climate change and sustainable development, but will also be open to anyone interested in participating.
The conference will be divided into four different modules:
- Connect and reuse: Learn more about what the Climate Education Coalition and its members are doing to build capacity.
- Unlock and develop: Start devising and innovating concrete participatory actions.
- Support: Find out how to use the collaborative Climate Education platform.
- Coffee Corner. Drop in for an informal opportunity for peer-to-peer networking.


The agenda and registration to participate in any of these modules is open through the following
link: https://education-for-climate.ec.europa.eu/day_sessions_en
Young generations engagement in the circular economy
For the recently started school year 2021-2022, Savno, associated partner of the RESourCE: Raising Expertise to Sustain our Common Environment project that manages urban waste in 42 municipalities throughout the Province of Treviso, an area covering 1.000 Km2 with 300.000 inhabitants, chose to continue its valuable commitment to environmental education for new generations. Savno decided to promote the topic of circular economy among young students of local schools through educational and awareness-raising activities. Savno deepens with young students the themes related to waste management and the cycle of materials to encourage the spread of good environmental practices both at home and at school. Engaging and raising awareness among the young generation is at the core of helping adults of tomorrow to adopt eco-friendly behaviours.
How to build and Eco Green Village
17 Goals to Transform Our World
The Sustainable Development Goals are a call for action by all countries – poor, rich and middle-income – to promote prosperity while protecting the planet. They recognize that ending poverty must go hand-in-hand with strategies that build economic growth and address a range of social needs including education, health, social protection, and job opportunities, while tackling climate change and environmental protection.
More important than ever, the goals provide a critical framework for COVID-19 recovery.
Il comune di Treviso nominato ambasciatore dell'economia civile
Il Comune di Treviso è stato nominato "Ambasciatore dell'Economia Civile". Sono cinque le municipalità che potranno fregiarsi di questo titolo che viene attribuito in occasione del Festival Nazionale dell'Economia Civile di Firenze sulla base delle buone pratiche realizzate nei rispettivi territori in applicazione dei principi di solidarietà, reciprocità e valorizzazione del bene comune.
Il Festival Nazionale dell'Economia Civile è promosso da Federcasse, NeXt e SEC ed è un luogo di incontro per la mobilitazione di persone, imprese e associazioni per una nuova economia e riscoprire e attualizzare – attraverso la presentazione di "buone pratiche" – i valori alla base dell'Economia Civile.
Il progetto selezionato dal Comitato scientifico è TrevisoFund, provvedimento a sostegno delle attività produttive e delle imprese nel processo di ripartenza dall'emergenza Coronavirus.